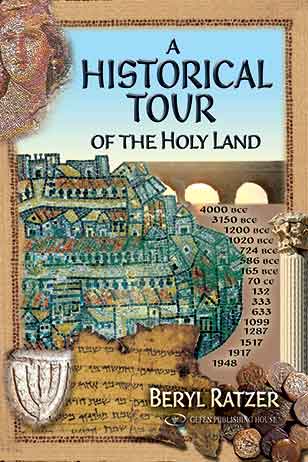 A concise history of the Holy Land with photographs and illustrations. History comes alive as you read.
Hebrew scriptures, Canaanites, Israelites, First and Second Temples, Greeks, Romans, Judiasm, Christianity, Islam, Crusaders, Mamelukes, State of Israel.
You will meet them all and more on the pages of "A Historical Tour of the Holy Land", as you tour from event to event in the history of this small piece of land nestled between Egypt and the Fertile Crescent.
Beryl Ratzer, an Israeli Tour Guide, combines her knowledge of Israeli archaeology,geography and history with her great love of the Land of Israel to enrich the tourist and the historian alike in their Holy Land adventure.
The book begins with a broad chronological table of the historical periods and their dates. Where necessary, some chapters have an additional detailed chronology. The scale map on which fifty two sites are marked and a table of distances help the reader get a sense of the Holy Land and how tiny it really is.